An external command is an MS-DOS command that is not included in command.com. External commands are commonly external either because they require large requirements or are not commonly used commands. The illustration shows each of the external commands are separate files. However, the internal commands are all included in the command.com file.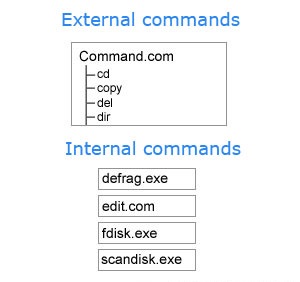 Listing of external commands
Below are examples of MS-DOS and Windows command line external commands currently listed on Computer Hope.
Append
Arp
Assign
At
Attrib
Backup
Bcdedit
Bootsect
Cacls
Chcp
Chkdsk
Chkntfs
Choice
Cipher
Clip
Comp
Compact
Convert
Debug
Defrag
Delpart
Deltree
Diskcomp
Diskcopy
Doskey
Dosshell
Driverquery
Dumpchk
Edit
Edlin
Expand
Extract
Fasthelp
Fc
Fciv
Fdisk
Find
Forfiles
Format
FTP
Gpupdate
Graftabl
Help
Hostname
ICacls
Ipconfig
Label
Loadfix
logoff
Mem
Mode
More
Move
Msav
Msbackup
Mscdex
Mscdexnt
Mwbackup
Msd
Msg
Nbtstat
Net
Netsh
Netstat
Nlsfunc
Nslookup
Pathping
Ping
Power
Print
Reg
Robocopy
Route
Runas
Sc
Scandisk
Scanreg
Schtasks
Setver
Sfc
Share
Shutdown
Smartdrv
Sort
Subst
Sys
Systeminfo
Taskkill
Tasklist
Telnet
Tracert
Tree
Tskill
Undelete
Unformat
Wmic
Xcopy
Where are the external command files stored?
Many of the external commands are located in the Windows\system32 or Winnt\system32 directories. If you need to locate the external file to delete it, rename it or replace it, you can also find the file through MS-DOS.
How do you run an external command?
As long as the file exists and you have the proper paths, an external command runs just like an internal command by typing the command name at the prompt. However, if the paths are not set properly or they are missing because the command line would not know where to look for the external command, you would get an error. Unless of course you were in the same directory as the command.